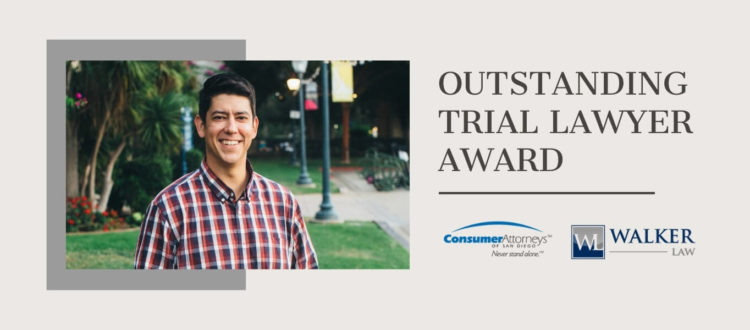 Justin Walker of Walker Law, PC Named "Outstanding Trial Lawyer" by Consumer Attorneys of San Diego
SAN DIEGO (Date) Justin Walker, founder of Walker Law PC, was named "Outstanding Trial Lawyer" at the Consumer Attorneys of San Diego's (CASD) annual Evening with the Trial Stars, held virtually on November 17, 2020. 
Mr. Walker was honored with this award for his outstanding work on a wrongful termination and retaliation case, which resulted in a nearly $4.1 million dollar verdict for the plaintiff, and an additional $1.3 million in attorneys' fees.
CASD is a local organization dedicated to the needs and interests of trial lawyers in pursuit of a fair and effective legal system. According to CASD, Outstanding Trial Lawyer Awards are given to attorneys responsible for an outstanding verdict in connection with a jury trial involving a civil or criminal matter. CASD's Awards Committee performs a comprehensive review of the nominated attorney, and criteria include ingenuity of counsel, qualifications, nature of the damages, including causation disputes, and the amount of the verdict. Mr. Walker was nominated and selected for the Outstanding Trial Lawyer Award by his peers and fellow trial lawyers in recognition for his great achievement.
Mr. Walker's verdict and accomplishment demonstrates the tremendous courage, fortitude and hard work it takes to successfully take a case through trial.
Walker Law PC is a 5-star rated law firm located in downtown San Diego that specializes in employment issues, personal injury and insurance bad faith actions on behalf of individuals who have been harmed.
Award Letter: http://walkerlawsd.com/wp-content/uploads/2020/12/Notification-of-Outstanding-Trial-Lawyer-Award-Walker-Law.pdf