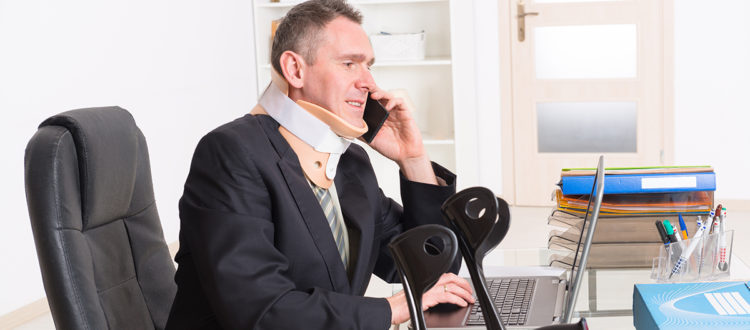 Different Types of Discrimination In The Workplace
Fear, embarrassment, confusion, and anger are all normal emotions to feel if you believe that you've been the victim of workplace discrimination. Most people rely on their job to provide for their lifestyle and family, but it's essential to understand your personal rights. The United States Equal Employment Opportunity Commission and the state of California protect residents against subtle or direct discrimination that occurs at work, and you have a right to seek an attorney for discrimination. Unfair treatment could occur when you least expect it, so be sure to familiarize yourself with different workplace discrimination types.
Sex And Gender Discrimination
Women are often the victim of gender-based workplace harassment, but it does happen to men as well. A person may be overlooked for a promotion, offered a lower rate of pay, provided with fewer benefits, or treated unfavorably based on their gender. It could also be considered discrimination if a person isn't hired because the position is traditionally filled by the opposite sex.
If a man and a woman perform the same job and substantially equal responsibility, effort, and skill are required, they legally must receive the same wage. If you believe that you are receiving less than a co-worker who has a job demanding the same skill, effort and responsibility, you are well within your right to take legal action.
What federal law covers sex or gender discrimination?
There are a number of federal laws in place that prohibit discrimination that is based on a person's gender in a variety of circumstances. Here's a brief overview of each:
Title VII Of The Civil Rights Act 1964 –

This protects employees from harassment or discrimination based on national origin, religion, colour, race, and sex.

U.S. Code Title 42, Chapter 21, Civil Rights –

This prohibits discrimination based on gender in a variety of settings. This includes private employment, as well as federal services, access to buildings and businesses, and education.

Title IX Of Education Amendments Of 1972 –

This law stops sex discrimination in educational programs that are entitled to federal funds. This may be applicable to you if you have experienced discrimination while undergoing training for a current or prospective job.
Gender Identity Discrimination
One of the most common discrimination types involves gender identity, especially in regards to transgender individuals. An employer that refuses to recognize a transgender male or female according to their identity is a significant problem. They may be denied access to the appropriate restrooms or repeatedly addressed with incorrect pronouns. It is important to understand that gender identity discrimination and sex discrimination is not the same thing in the eyes of the law. Gender identity discrimination is more specific to individuals that do not conform to the stereotypes of gender expression or identity; for example, this could be an individual who identifies as a woman despite being born into a man's body. Sexual orientation discrimination also falls under this category because it could be implied that a transgender person is gay, lesbian, or bisexual. Heterosexual individuals can also become the victim of discrimination, although it is less common.
What federal law covers gender identity discrimination?
Unfortunately, though, there is no existing federal law that explicitly and universally gives LGBT workers protection. Congress is currently reviewing the Employment Non-Discrimination Act, which will explicitly prohibit workplace discrimination based on gender identity or sexual orientation. At the moment, less than half of the states in the U.S. have laws in place that protect workers based on their gender identity/expression and their sexual orientations. Some courts have included transgender people in the protection given by the Title VII of the 1964 Civil Rights Act, whereas others have not. Luckily, California is one state that has embraced gender identity laws. One recent bill was passed in 2017 that demands that transgender people are preferred to by their preferred pronouns. The law also states that people can self-identify their gender, meaning they can use restrooms based on their gender identity rather than their biological sex.
Marital Status Discrimination
An unmarried applicant could be viewed by a potential employer as a distraction, especially in circumstances that the individual is of the opposite sex as the majority of other workers. On the other hand, an applicant that is married might be implied to have children. They may be denied a position based on unfair reasoning, such as being more committed to their family than work.
Disability Discrimination
There are two acts in place that protect people against disability discrimination. This includes the 1973 Rehabilitation Act and the 2010 Americans with Disabilities Amendments Act. Disability discrimination can happen in many different ways. It can be indirect or direct. Both forms of discrimination are against the law. A person may be wrongfully terminated, demoted, refused a job, or otherwise treated differently based on a disease or disability. Individuals are not required to disclose a disability to their employer, but it may be necessary when requesting special accommodations. The employer may be guilty of disability discrimination if they deny a request for reasonable changes, such as the addition of a wheelchair ramp.
Who is considered disabled under the law?
The term disability means, with respect to an individual, someone who has some form of impairment, be it mental or physical, which significantly limits one or several major life activities. Therefore, an employee could be a victim of discrimination based on unfair treatment relating to the following issues:
Disfigurement
Disease
Mental or psychological disorder
Learning disability
Age Discrimination
The actual or assumed age of a person could disqualify their eligibility in the hiring process, or cause the employer to assume that they're unfit for certain duties or positions. A younger individual is often viewed as inexperienced or likely to move on from the job quickly. Older candidates may be the victim of age discrimination by being denied new training, assumed to retire soon, or viewed as unappealing to younger customers. Although this is one of the less common workplace discrimination types existing today, there are employers that continue unfair recruitment and employment policies.
What federal law protects older workers in San Diego from age discrimination?
If you feel that you have been the victim of age discrimination, the federal law, via The Age Discrimination in Employment Act, will protect you. You are covered by this act if you meet the age threshold, i.e. you are over the age of 40-years-old, and if your boss regularly employs at least 20 people at the firm. It is worth noting that this minimum number of employees is something that does differ from state-to-state, so you will need to find out the minimum employee number for your state specifically. In California, the terms are more favorable for workers, as you are covered so long as your employer has at least five employees. This is because California law follows the Employment and Housing Act (FEHA), which is very similar to The Age Discrimination in Employment Act. The only main difference is that smaller businesses are included.

Receive A Free Confidential 15-Minute Consultation
We're 5-star rated, highly professional, and here to help you. Let's talk about your situation and find out if you have a case today!
Religious Beliefs Discrimination
Religion includes all elements of religious practice and observance, as well as belief. This includes traditional and organized religion, be it Judaism, Islam, Christianity or any other type of religion. It also includes those who have unique sets of beliefs, yet they must be meaningful and sincere. This does not include mere personal preferences, nor does it include economic, political, or social philosophies.
What federal law covers religious discrimination in the workplace?
Moral, ethical, and religious beliefs of an employee or candidate must be respected at all times by an employer. The federal law that protects individuals from religious discrimination is Title VII of the 1964 Civil Rights Act.  Unfavorable treatment could include offensive remarks, segregation, or failing to make requested schedule adjustments on special holidays. The only exception that an employer may take is making accommodations that would cause undue hardship, such as creating a burden for other employees.
Racial Discrimination
Racial discrimination is covered in the Title VII of the 1964 Civil Rights Act. This means that an employer cannot discriminate against you because of your race in terms of any employment privilege, term or condition, including job training, compensation, promotions, benefits, discipline, firing and hiring.
What federal law covers race discrimination?
Racial forms of harassment that occur in the workplace are strictly forbidden by the law, even if the employer is the same race as the victim. Unfavorable treatment can include:
Use of racial slurs
Teasing about skin color, facial features, etc.
Display of any symbols that are considered racially-offensive
Are racial jokes or slurs considered race discrimination?
With regards to racial jokes and slurs, and what counts as discrimination and what doesn't, the nature of the offense is very much taken into account. However, isolated incidents, offhand comments, and simple teasing are not prohibited by federal law. For legal action to be just, the conduct needs to be severe or sufficiently frequent enough to generate a working environment that is offensive, hostile or intimidating.
PregnancyDiscrimination
Applicants and employees that are pregnant are often subject to discrimination rather than provided with reasonable accommodations. In California, many of these cases involve an employer that believes that their actions are protective of the pregnant woman. It is considered pregnancy discrimination, even though there may not be any malicious intent. A pregnant female could also be denied employment or fired based on the assumption that she will be unproductive and need to miss work often.
Do I have to tell my potential employer I'm pregnant?
It is important to note that you are not required to tell potential employers that you are pregnant since they are not legally allowed to make hiring decisions based on this, although you may wise to tell them so out of courtesy so they know you will need time off later down the line. The same applies to your current employer. You are going to require leave at some stage, so it is best to let your boss know.
What federal laws cover pregnancy discrimination?
There are a number of federal laws in place that cover discrimination of this nature. This includes the 1993 Family and Medical Leave Act, the 1978 Pregnancy Discrimination Act, and Title VII of the 1964 Civil Rights Act. The 1978 Pregnancy Discrimination Act was designed to clarify that any form of pregnancy discrimination, or any discrimination based on medical reasons or childbirth, is deemed a type of sex discrimination. The 1993 Family and Medical Leave Act means that any employee – female or male – has right to 12 weeks of job-protected leave to recover from a serious medical condition if they have been at the company for at least a year and the business has more than 50 employees. Being pregnant counts as a serious medical condition.
Sexual Harassment
Males and female alike are the victim of unwanted touching, inappropriate remarks, and pressure to perform sexual favors for those in the workplace. Sexual harassment is one of the most common discrimination types, especially if the victim is punished for showing disinterest. It can happen to any gender by co-workers or employers, and the law protects against this type of treatment.
Retaliation
Individuals that witness or experience some form of workplace discrimination are often afraid to speak up for fear of retaliation. It's against the law to retaliate in any of the following example circumstances:
Another employee intervenes when another individual is being physically or verbally harassed.
Inquiring about salary information to determine wage equality
Requesting an accommodation for reason of religion or disability, regardless of approval.
Cooperating in a discrimination investigation.
Refusing to take part in discriminatory practices, especially if ordered to do so.
What To Do If You Have A Disability Discrimination Case
If you believe that you have a disability discrimination case, you should contact a San Diego attorney right away. Delaying your claim could potentially harm your chances of receiving the compensation that you are owed. If you would like someone to review your case today, send us an email or call Walker Law at (619) 839-9978 to schedule your free consultation.